Some people aren't ones for celebration. When birthdays roll around, they really couldn't care if they get a call or a box of chocolates. Some people forget the day their lives changed when they committed to love another for the rest of their lives with an "I do!"
And maybe more than a birthday, wedding anniversaries should be celebrated! Marriage is hard work. It means sacrificing to self every day. It means sticking together when illness, loss, work and financial stress threaten to drive you apart. Raising children is not for a weak marriage nor is the empty nest.
So as the date rolls around each year, we should determine to celebrate another year of hard struggles and love despite it all.
Our ten-year anniversary was upon us. We hadn't spent a night alone outside our home for about 7 years. And it was time! I looked around at beach-side rooms or a little getaway to the berg, but in the end, we stayed local and it was the best decision. We were close enough in case our kiddies needed us (unlikely!) and far enough to feel like we were out of our community.
The Midlands in KwaZulu Natal boasts one of the most beautiful landscapes in the country. Rolling green hills dotted with cows. Plenty of little coffee shops with locally roasted beans and delicious bakes. Locally owned craft stores with beautiful décor and paintings. And all sorts of lovely activities for couples and families.
A new boutique hotel – Highgate Boutique Hotel – has recently opened on the Highgate Wine Farm. This lovely little room for two overlooks the hilly Midlands and is tucked away at the end of an expansive farmhouse. While it borders the household verandah, the room is 5-star quality. Behind the gauze curtains is a gorgeous bed set against a tufted upholstered headboard. Each bedside is adorned with a hanging, vintage-style, glass bedside lamp. The feature wall is decorated with a stunning, navy, floral wallpaper. And then – my favourite feature – is a luxurious, deep bath on a step in the bedroom (!!) with a full mirror behind and flooded in the light of a chandelier – the perfect addition to a honeymoon-style suite!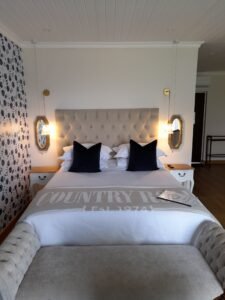 The private bathroom is elegant and simply decorated with a plant and glass jars of locally produced soap products. Thick, large bath towels are hung against the wall and two basins are set in front of a wall-length mirror. There is an open shower big enough for two – a must-have for couples. And after basking under the spray of a massive showerhead, two oversized, fluffy nightgowns are waiting to wrap you up in their warmth.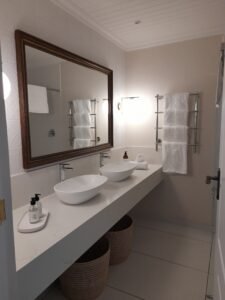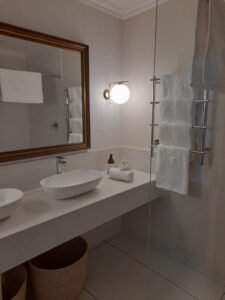 For your enjoyment, there is an honesty bar stocked with soft drinks and locally produced nougat. In a vintage wardrobe, tea, coffee and buttermilk rusks are there for you to enjoy. Or should you wish, you can enjoy a decadent pod coffee. A bottle of Highgate wine produced from the farm vineyard is available at a price to to drink while tucked up in bed with a series or on the patio as a sundowner.
Highgate Restaurant is a stone's throw away where you and your loved one can indulge in a classy meal. Highgate Boutique Hotel backs the infamous Piggly Wiggly where you can have a lovely breakfast or lunch and browse the quaint shops, go chocolate tasting, paint ceramics and dip candles.
This one-room gem is a stunning spot for a honeymoon night or a getaway for two.
Tags:
5 star
,
accomodation
,
five star
,
highgate boutique hotel
,
highgate wine estate
,
honeymoon
,
honeymoon suite
,
KwaZulu-Natal
,
luxury
,
midlands
,
midlands meander
,
natal
,
natal midlands
,
night out
,
piggly wiggly
,
tourist
,
travel