Ask South Africans where they want to go on holiday and many will pick the touristy places – Cape Town, The Garden Route, Knysna, Kenton, the North or South Coast, the berg or the bush. We live in a tiny town somewhere between Jo'burg and Durban which many people don't even know exists. But each year around Easter and year end, the highway clogs with cars beach bound. 
The Natal Midlands may not be as popular as the many other locations countrywide and are often used just as a one nighter for a Midmar Mile or Comrades. Some just use it as a petrol stop. Some don't even bother to drive through but just climb on a plane bound for the sun and sand. But after living in The Promised Land (excuse my bias!) for most of my life, I can conclusively tell you that little can trump the rolling green hills shrouded in mist or flooded with glorious sunshine. Most of us living in this part of the world don't have to drive far from our residential homes to drink in the expanse of farmlands dotted with cows. Or spot a sparkling dam on the side of the road. Eagles, owls, franklins and a host of other birdlife frequent our gardens. Other wildlife sometimes venture into our spaces when we least expect it. Many homes in surrounding towns as well as ours have a direct line of sight to the Drakensberg. And many who have lived here and left will often return to raise families and settle down. If they live elsewhere, they pine for this way of life. 
The pace of life is slower. The tourist attractions are seldom unpleasantly crowded. If you're looking for a place of tranquility and solitude, beauty and good food, the Natal Midlands is the place for you!
One could always opt for the more well-known spots such as the historical old schools steeped in history such as Michaelhouse and Hilton College. Their campuses boast beautiful buildings and impressive grounds. Or wind your way parallel to the railway line to peruse the newly revamped Nelson Mandela Capture Sight. After which, a lunch at Piggly Wiggly would probably be in order. Their incredible set up hosts a variety of boutiques, artisanal foods, curio shops and fun kiddies' activities such as candle dipping, ceramic painting, adventure golf, zip-lining, a petting zoo and miniature train rides. 
The road winding from Hilton to Nottingham Road and the areas surrounding have many unique places to visit. From leather crafters to pottery; go-karting to hot air balloon rides; cheese tasting to coffee roasteries and massive wind chimes, there really is something for everyone. 
Not to mention the many hundreds of BnB's to choose from! Everything from tree houses, farm cottages, beautiful hotels and for those not looking to break the budget, there are also many affordable options and camping sights. And without a doubt, most of these abundant options boast a spectacular view – a perfect place for a picnic or sundowners!
Here are my few "worth-a-visits:"
Midlands Fable
This upcoming eatery is a treat to behold. Not only do they have amazing food but have some of the most incredible grounds to wander through. It reminds me of a beautiful English garden or park. Wood chipped pathways lead you to a hedged maze, flower arch tunnel, an interesting, interactive water feature and an unusual playground. A lovely, natural environment.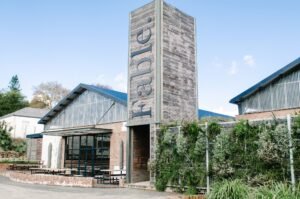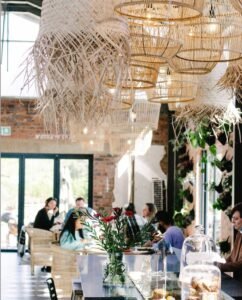 Photo Credit: Facebook (Midlands Fable)
The Upper Millstone
If you are looking for a good coffee and some of the best baked breads and pastries, it's a lovely spot to visit. Many locals love to sit there and enjoy a cup of coffee and a delicious croissant or sourdough bread and enjoy a comfier workspace.
Photo Credit: Coffee Magazine and Facebook (The Upper Millstone)
Station Shop Coffee Shop
Across the road and onto the famous old Hilton railway track is the old station (featured in the movie, Cry, the Beloved Country) and drink a cup of something hot and enjoy a decadent cake. Kiddies are perfectly safe exploring unused railroads. Or even for those a bit older, climbing in the old steam engines. From time to time, the deck built over the train line serves as a stage for plays and live music. Health shops, gourmet ice-creams and knick-knack shops are housed in quaint train carriages and some, with so much character, are set at an angle. A charming place to stop for a treat and to stretch the legs and drink in some of the purest air in the country.
Photo Credit: Unknown and Facebook (Station Stop Coffee Shop)
The Barn Owl and Ground Cover Leather Crafts
This little coffee shop is set next to the famous Ground Cover leather crafters. They are famous for their good quality leather shoes and sheepskin slippers. You can even peek through the glass window into the workshop and have a look at how it's made. After which, you can wander down to have a coffee while overlooking a fabulous display of the lush, rolling hills of the Natal Midlands. There is a small but interesting playground for kiddies to enjoy. I think it's telling that my children didn't even finish their milkshakes so as not to lose another minute of play.
Photo Credit: Facebook (The Barn Owl and Ground Cover)
Blueberry Café
This place has a panoramic view of the midlands from atop a hill. They are famous for their blueberry cheesecake and have an art gallery alongside to wander through. Probably my favourite aspect of this is a bathroom with a view of the landscape. No one can be bored visiting the bathrooms and, don't worry, only the Nguni cows grazing outside might take a glance in your direction.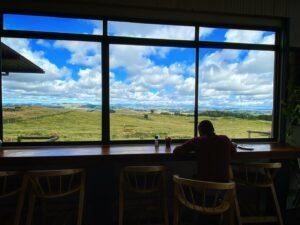 Photo Credit: Facebook (Blueberry Cafe)
This part of the country deserves more than a one night stop or a "skip the drive and take the plane!" It is the perfect location for some R and R away from the fast paced life we live. Next time you're tempted to visit the touristy destinations, I challenge you to take a drive or rent a car from Sani Car Hire and explore the rural, winding roads of KZN's best kept secret! 
This post was sponsored by SANI
The SANI brand was established in 1997. SANI Car Rental is a South African homegrown car rental company. Vehicles available to rent include compact cars, economy cars, premium cars, people carriers and SUVs. SANI Car Rental serves customers throughout South Africa including at all major local and international airports.
Tags:
blueberry cafe
,
car rental
,
curry's post
,
groundcover
,
hilton
,
howick
,
KwaZulu-Natal
,
kzn tourism
,
local is lekker
,
midlands
,
midlands fable
,
midlands meander
,
midmar dam
,
natal midlands
,
nottingham road
,
sani car rental
,
south africa
,
station shop coffee shop
,
the barn owl
,
the upper millstone